Air Pros Heating & Cooling
For heating, cooling, ventilation and light plumbing repairs you can count on, trust Air Pros Heating & Cooling! We're the foremost HVAC experts in Marion, IN and the surrounding areas, bringing more than a decade of expertise to every jobsite. Contact us today—24 hours a day—when you need heating and cooling service.
Full-Service Heating and Cooling in Marion, IN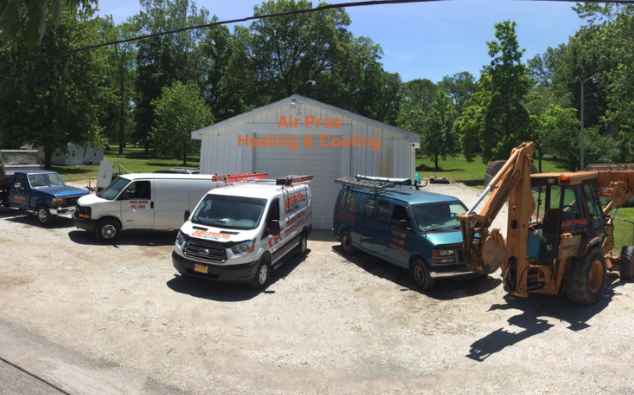 It's easy to overlook the convenience of your home or business' HVAC system… until something goes wrong. Then, it's a race to fix things before your comfort and quality of life begin to suffer! Luckily, Air Pros Heating & Cooling is always ready to offer you the heating and AC repair in Marion, IN you need to set things straight again. We're available 24 hours a day, 7 days a week to provide you with reliable repairs. We arrive quickly and ready to work, backed by the tools and expertise to conquer any problem, no matter its cause.
When you call us for AC and heating repair in Marion, IN, you're getting a level of quality and dedication that's unmatched. We make sure everything is in perfect working order before we leave your jobsite, and we can help provide you with the information you need to keep things working properly between service calls. We even offer light plumbing repair for water heaters, water pumps and drain lines, giving you an all-inclusive reason to call us for service. Air Pros Heating & Cooling is ready to build a lasting relationship with you, so you can live and work comfortably with an HVAC system that's always reliable.
HVAC Service at Any Hour

Heating and cooling problems can't wait for a resolution—they need expert attention right away! Contact Air Pros Heating & Cooling today for immediate service you can count on.
Proudly offering AC repair and HVAC service to the following locations and surrounding areas:
Marion, IN
Sweetser, IN
Jalapa, IN
Hanfield, IN
Farrville, IN
Dillman, IN
Van Buren, IN
Grant County, IN
Huntington County, IN
Blackford County, IN
Madison County, IN
Swayzee, IN
Wabash County, IN
Sweetser, IN
Gas City, IN